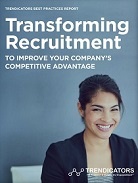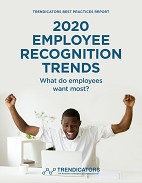 What do employees want most when it comes to recognizing their day-to-day contributions in the workplace? How do the recognition programs of employers align with these preferences? These are among the topics explored in this review of 2020 Employee Recognition Trends.

The Employee Recognition Gap

While recognition and incentive program owners are optimistic, with many projecting budget increases for the coming year, long-standing disparities remain between employee preferences and workplace realities.
Even though an overwhelming majority of employees say they believe recognition for performance increases their engagement at work, the existence of programs designed to recognize and reward performance-based behaviors and actions remains relatively rare.

Although the vast majority of organizations offer length of service recognition programs, a large percentage of employees have not been recognized at work in the past six months or more.

Goals for Improvement

What are recognition and rewards program owners doing to enhance their initiatives? According to the Incentive Research Foundation (IRF), more program owners will rely on participation rates next year to report on and analyze program effectiveness.

Drivers for change include keeping up with what competitors are doing, improving communications and participant engagement and facilitating more personalized recognition experiences. Greater enterprise-wide focus on the importance of employee experiences is also driving new forms of experiential recognition. Our report concludes with examples of events and activities designed to promote team-based communication, collaboration and decision-making skills.
Enjoy the read!