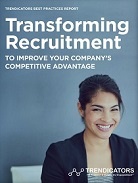 Is your employee recognition program missing a key enabler for success?

Although organizations devote an average of 1-2% of corporate expenditures to employee recognition, a majority provide no training for managers.

Why is it important to help managers get better at recognition, and what can your organization do to improve recognition effectiveness? To find out, we interviewed Jack Wiley, Ph,D., and Charles Scherbaum, Ph.D., two industry-leading experts on employee engagement and recognition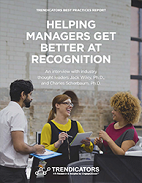 Helping Managers Get Better at Recognition is a must-read for HR leaders and recognition program managers.

About the experts:
Jack Wiley, Ph.D., is an author, consultant, researcher and university professor. For more than three decades, he has focused on two big research questions: What do employees most want? What organizational factors best promote employee engagement, performance confidence and business success?

Charles Scherbaum, Ph.D., is a recognized expert in analytics, talent management, assessment, performance management and employee and customer research. He is an author of articles, chapters and a book on these topics. He has overseen many large research and analytics initiatives at Fortune 500 companies over the past 12 years.

What you'll learn: Helping Managers Get Better at Recognition provides research-based insights on the following important topics:
Recognition and business results


What do employees look for in a manager?


Why do employee expectations matter?


The benefits of effective employee recognition


The consequences of ineffective recognition


Recommendations for improving recognition effectiveness
Enjoy the read!