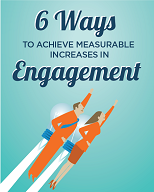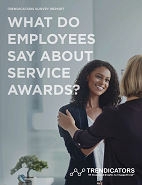 More than three-quarters of all U.S. companies recognize employees' tenure through formal length of service recognition programs. Yet, the question still remains…Do today's employees still see value in service awards? Find out in What Do Employees Say About Service Awards?, a groundbreaking report based on a survey of 5,000 U.S. employees, representing all major industries and demographic groups.
The results of this survey, which were published in a comprehensive report in late 2016, were extremely popular among HR leaders, compensation and benefits managers and rewards and recognition program managers. Since then, we have received numerous requests for an executive-level summary of the survey findings, which we are proud to deliver in this updated edition.
What you'll learn about in this report:
The prevalence of service awards by industry
Differences in perceptions of the value and effectiveness of service awards
Favorability towards service awards by age groups and management level
Pop Quiz: Which age group do you believe expressed the highest favorability towards service awards? Was it 18-to-24-year-olds, 25-to-34-year-olds, or 35-to-44-year-olds?
Download and find out now!
For more information: Our recognition experts at Engage2Excel can help you determine how your organization might best use service and performance recognition programs to engage your team. To schedule a discovery call, click here.