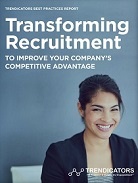 In the post-pandemic work environment, early attrition has become a problem that many organizations struggle to address. Record low unemployment, changes in work attitudes and expectations, and the high cost of replacing people who quit have made retention strategy a high priority for HR leaders.
"Early attrition is a problem that not only increases the cost of talent acquisition, but it also negatively impacts overall organizational performance and erodes the fabric of corporate culture." - Darren Findley, Engage2Excel Recruitment Solutions.
Below is a summary of a recent Trendicators Report, Improving Retention Rates for New Hires, which shared ways that organizations can create optimal experiences for candidates and new hires to help reduce turnover.
Voluntary Turnover Overview
The annual voluntary turnover rates vary widely by industry. Every month, 3.5–4 million employees (approximately 2% of the workforce) quit their jobs and the average voluntary turnover rate across all industries is 25%. While early turnover rates are not widely reported, Gartner estimates that 20% of all employees quit within their first six months.
Why Are Employees Quitting Early
For some employers, voluntary turnover is simply seen as the cost of doing business. Others, however, recognize early turnover as a costly problem that can and should be addressed.
A retention strategy is vital for building and maintaining a strong corporate culture and goes well beyond offering competitive wages and benefits. People want to feel good about their work, be recognized for their contributions, receive opportunities to develop new skills and advance their careers.
Job Quitters Are Switching Industries
Hardship and isolation endured by many during the pandemic gave rise to behaviors and attitude changes that pose significant challenges for employers. Research by McKinsey & Company reveals that nearly half the people who quit their job between April 2020 and April 2022 did not return to the same industry. Over a third quit but remained in the same industry, while 17% did not return to the workforce.
The Business Impacts of Early Attrition
According to a Center for America Progress study, losing an employee can be anywhere from 16% of annual wages for hourly, unsalaried employees to 213% of the salary for a highly trained position.
While the cumulative investment in each new hire is significant, there is rarely ownership or accountability for optimizing the processes and experiences of new hires to minimize attrition and maximize engagement and discretionary effort to yield a higher ROI.
Building An Early Retention Program
For most organizations, labor is the single greatest cost. At a time when more than half of all new hires are considering quitting within the first six months, a pragmatic approach to new hire retention is vital. Unfortunately, many organizations don't proactively plan for pre-hire success and optimize post-hire experiences.
To read the entire eBook, download it for free below!