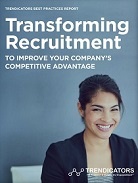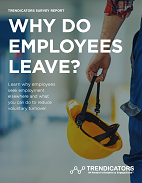 Due to ever-increasing competition for top talent, employee retention has become a critical business concern across all major industries. As the economy continues to perform well and the unemployment rate continues to decline, business leaders, HR executives and managers need to understand the current drivers of employee turnover in order to improve the effectiveness of their retention initiatives.

Our latest Trendicators survey report, Why Do Employees Leave?, provides new, science-driven insights about why employees are seriously considering leaving their current employer in the next 12 months.

What you will learn: Based on a regression analysis of data collected via our nationwide survey of 5,000 U.S. employees representing all major industry sectors and demographic groups, this report addresses four key questions:
What are the top drivers of employee turnover in 2018?
What are the greatest differences between employees who intend to stay and leave?
How do turnover-intention levels differ between generations?
Which industry sectors face the highest and lowest turnover risk in 2018?
In addition to presenting an analysis of the survey results, this report offers recommendations for overcoming negative perceptions of employees who intend to leave along with ideas for building more robust, engaging and effective retention programs.
Enjoy the read!