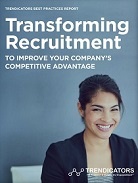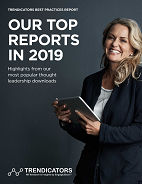 Each month, the Trendicators research division of Engage2Excel publishes reports based on original data from our nationwide surveys as well as insights and best practices from industry leaders and experts.

The survey data we collect is unique in the industry in that it documents the preferences and perceptions of employees and job seekers across all major industries and job types with proportionate representation of gender, age group and racial/ ethnic origin.
This research shapes Engage2Excel solutions and enables us to provide clients with practical, evidence-based guidance for improving career experiences throughout the employee life cycle.

Must Read Insights

If you believe that understanding what employees really want is important, then our latest Trendicators report is a must-read. Our Top Reports in 2019 consolidates key takeaways on a broad range of topics, including:
Why employees leave


Retention and separation drivers in the talent life cycle


Why candidates accept or reject job offers


Profiles of industry leaders in employee recognition


Engagement levels for remote workers


Recognition budgeting and strategy
Enjoy the read!