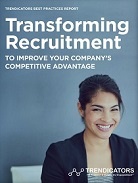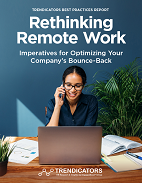 Providing remote workers with the technology they need to be productive is vital. However, a far greater challenge exists in addressing the emotional needs and interactive routines of employees who work from home.

Our latest Trendicators Best Practices Report, Rethinking Remote Work, explores imperatives for optimizing your company's bounce-back. Much uncertainty still exists regarding the timing for the release of a successful anti-virus vaccine and the speed with which the economy will recover. Yet, this much is certain: tens of millions of employees will continue to work from home beyond year's end, and a significant percentage hope to continue working remotely after the crisis subsides.

Remote Work Challenges: While there has been steady growth over the past five years in the number of people working remotely one or more days a week, significant challenges exist in addressing the impact of remote work on emotions, productivity, work-life balance and the quality of collaborative interaction.

Impact on Productivity: Widespread differences of opinion exist regarding the impact of remote work on productivity, according to a survey in July by PwC. Among executives, 44% believe that productivity has improved during the pandemic, compared with 28% of employees who say they are more productive working from home. Addressing the challenges of remote work is essential for optimizing performance in the near future.

Download this report to learn more about:

C-Suite Perspectives: Why and how leaders are rethinking their corporate culture

Remote Work Realities: New challenges to productivity that must be addressed

Bridging the Distance: What managers need to do differently to engage remote workers

Re-imagining Recognition: Creative ways to boost engagement and social connections

Realigning Recruiting: New opportunities for a talent-driven bounce-back

Remote Onboarding: Ideas for accelerating time-to-productivity

Assessing Evolving Attitudes: Use pulse surveys to stay on top of employee perceptions
How well your organization addresses the challenges of remote work will influence the shape of your organization's recovery. Download the report for insights you can use to boost your success.