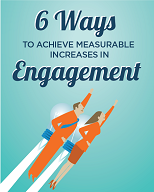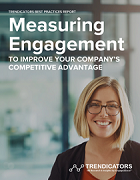 If your CEO showed up unannounced in your office tomorrow and asked the following questions, would you be able to answer them?
Are our employees more or less engaged than our competitors?


In what ways, specifically, are our employees more engaged and less engaged?
Now for an even more important question. If you couldn't provide answers on the spot, should you or your HR department be able to?

Today's CEOs have data on nearly every facet of their business. Yet, many come up short when they seek objective, data-driven insights on their company's most valuable assets–its people. If HR can't provide these insights, who should?
A front-burner issue: Understanding how your company's employee engagement levels compare to competitors is vital for addressing ever-present recruitment and retention challenges. Low unemployment and the expectation of continued economic growth are making talent management a front-burner issue. In fact, "failure to attract and retain talent" is the leading concern of CEOs according to the C-Suite Challenge 2018 Survey by The Conference Board.

Creating Talent-Driven Competitive Advantage: To assist HR and business leaders in addressing today's recruitment and retention challenges, our Trendicators research division is kicking off a three-part eBook series on a creating talent-driven competitive advantage. The first in this series, Measuring Engagement to Increase Competitive Advantage, is an updated version of a previously issued eBook, which is organized around seven key questions:
Why invest in measuring employee engagement?


What factors influence employee engagement?
What perceptions impact employee engagement levels?
What can you learn from benchmark comparisons?
How can you turn survey results into competitive advantage?
How can engagement help you improve recruiting success?
How is employee experience different from employee engagement?
At Engage2Excel, we believe that HR departments have an unprecedented opportunity for leading talent-driven transformation initiatives that drive bottom-line results. Stay tuned for our next two eBooks, which will focus on best practices for performance recognition and redesigning recruitment to create competitive advantage.
Enjoy the read!