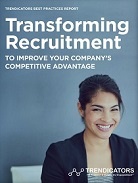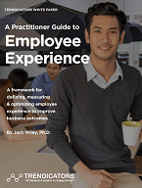 What is Employee Experience and how is it different from Employee Engagement? Many HR professionals and consultants would be hard pressed to answer this question.

As is often the case with new terms in any discipline, analysts and marketers of new technology platforms have been quick to embrace and propagate Employee Experience as the next big thing in HR. This has led some to believe that Employee Experience is related to platforms that help make interactions more positive by providing easier access to, for example, recognition & rewards programs, training and career development opportunities, perks and wellness programs.

While technology certainly plays a role in facilitating better employee experiences, the substance, context and relevance of those experiences are what differentiate one employer from another. In other words, you can't buy a better Employee Experience. You need to create it.

A Practitioner Guide to Employee Experience provides a framework for HR leaders to use in defining, measuring and optimizing Employee Experience to improve business outcomes.

You can't buy a better employee experience. You need to create it.
Written by employee engagement expert Jack Wiley, this white paper provides important insights you can use to enhance the day-to-day experiences of employees and improve the discretionary effort required to create better experiences for customers.

Enjoy the read!