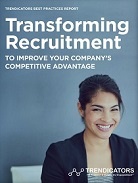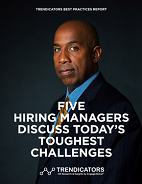 The hottest job market in decades has presented significant challenges for hiring managers. After more than eight years of U.S. job growth, hiring managers have had to adjust to conditions where candidate experiences and employee expectations matter more than ever.

To gain a first-hand perspective on what's working and what isn't, we interviewed hiring managers from different sectors. Download Five Hiring Managers Discuss Today's Toughest Challenges to learn how:

A fast-growing consulting practice is developing talent from scratch to keep up with a high-growth consulting practice
The regional office of a financial services firm is attracting candidates with the aptitude and fortitude to succeed
A Northeast healthcare system is overcoming unprecedented shortages of patient care professionals in healthcare
The manager of a software development group is dealing with recruitment and retention challenges in the midst of a corporate acquisition
A regional manager in the beauty business is using recognition to help get new careers off to the right start
To encourage candor, we promised our interview subjects anonymity. While the circumstances are quite different, the stories presented on the following pages offer important insights on the strategies and tactics hiring managers are using to address today's toughest challenges.
Enjoy the read!