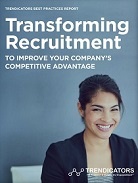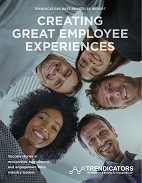 The old notion that customers come first is being augmented by a new market reality. If you don't treat employees like customers, they won't put forth the extra effort required to keep your customers happy.

These days, the "employee experience" is generating a lot of buzz, but market leaders have always understood that creating better employee experiences is vital to success. In the current business environment, several factors have converged to make creating great employee experiences more important than ever:

Unemployment and employee turnover are at record levels.
Technology has fundamentally changed the nature of work.
Increased access to information has enabled greater autonomy, calling for increased levels of discretionary effort on the part of every employee from the factory floor to the front lines of customer interaction.
In "Creating Great Employee Experiences," our latest best practices report, we present seven examples of how HR practitioners are enabling more meaningful employee experiences, from pre-hire to retirement.

Insights from Industry Leaders: In this report, you'll learn about success stories in recruitment, employee recognition and engagement from our clients at Atrium Health, Clean Energy, Par Pacific, Sally Beauty, Platform Specialty Products, ConnectiCare and UPS.
Enjoy the read!