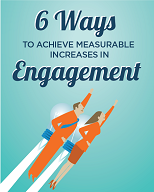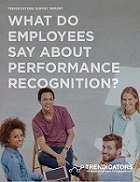 How common are performance recognition programs today and what effects do they have on the employees they're designed to influence? To answer these questions, Trendicators™–the research division of Engage2Excel–recently conducted a survey of 1,500 U.S. employees representing all major industries and demographic categories.

Statistically Valid Research: The results of this original research study, which have a margin of error of plus or minus 1.5% at a 95% level of confidence, are presented in Engage2Excel's latest survey research report, What Do Employees Say About Performance Recognition?
Key Takeaways: We'll share just a few of the takeaways from the report here, but be sure to download the full report, as it is jam-packed with actionable insights.
PROGRAM PREVALENCE: Nearly three quarters (72%) of employers offer performance recognition programs.
EMPLOYEE PREFERENCE: Significant gaps (from 19% to 42%) exist between the types of programs employers offer and the program features that employees believe have the greatest impact.
PROGRAM INFLUENCE: Employees who work for employers with performance recognition programs are nearly two times more likely to agree with the statement, "I would recommend my organization as a great place to work," than employees who work for employers without performance recognition programs.
What You'll Learn: You won't have to dig through pages of data to uncover actionable information in this groundbreaking research report. Instead, you'll find simple response tabulations that provide straightforward answers to the following key questions:
How common are performance recognition programs?
What are the most prevalent program features and reward options?
How do employees feel about performance recognition?
How do performance recognition programs affect employee attitudes?
What are employee preferences for performance recognition?
How do age and gender affect performance recognition perceptions?.
Enjoy the read!
Call for contributors: Do you have a topic you'd like to read about or contribute to in an upcoming Trendicators Report? We'd love to hear from you! To share your ideas, please click here.