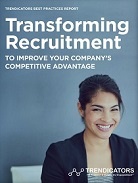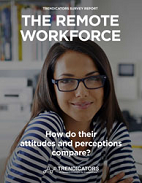 Technology enables employees to connect with anyone, anywhere from almost any device. This is facilitating new levels of collaboration, responsiveness and productivity. Meanwhile, the average time it takes employees to commute to work is rising, from an average of 20 minutes each way in the 1990s to 26 minutes today, with commute times in major metropolitan areas significantly higher.

In order to attract the best qualified talent, many employers have relaxed their policies about remote work. Teleworking has, in fact, grown 115% in the past decade, according to the Society for Human Resources Management.

However, in 2017, a number of large employers made headlines by abandoning their telework initiatives, citing the desire to improve communication, collaboration and teamwork. This move was surprising to many for two reasons:
Nearly three-quarters of millennials express a desire to have more opportunities to work remotely1.
Employers can save $11,000 per half-time telecommuter2.
Do employees who work remotely feel less recognized, exhibit lower engagement levels or experience less attention from their manager? Download our latest survey report, The Remote Workforce, to find out. The results may surprise you.
Enjoy the read!
1. 2017 Deloitte Millennial Survey
2. Global Workplace Analytics