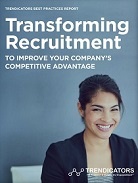 The Trendicators research division of Engage2Excel is proud to present a Book Review of The Employee-Centric Manager, by Dr. Jack Wiley, our chief scientific officer. Few variables have greater influence over employee performance and retention than the relationship between employees and their immediate supervisor. And this relationship matters now more than ever.
Milton Friedman said that, "Only a crisis, real or perceived, produces real change." The COVID-19 pandemic has forever changed the world of work. While experts have talked about the importance of the employee experience for years, the relationship between a manager and their employee has largely been ignored.

Most managers have little or no training in people management, and learning retention rates for those that have been trained decline by as much as 75% after just six days. The COVID crisis has been accompanied by acute labor shortages, significant increases in voluntary turnover, increased hesitancy around returning to the workplace and heightened stress among essential onsite personnel. How is your organization dealing with these challenges?

Based on a survey of 80,000 employees representing 27 countries, all major job
titles and three generations across all major industries, The Employee-Centric Manager reveals the five behaviors, two values and one skill that any manager at any level within any organization can adopt to improve managerial effectiveness and ultimately create great career experiences.

Download the book review to learn:
What do employees most want from their managers





How employee-centric managers outperform all others
9 Reasons why every people manager should own The Employee-Centric Manager