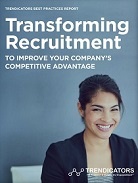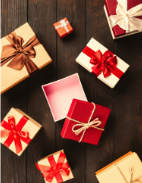 It's the most wonderful time of the year – unless you work in HR. Holiday anticipation and upcoming vacations often leave employees feeling distracted and disengaged during one of the most chaotic months of the year. Without a solid engagement strategy, ramped up customer demand and preoccupied employees create a perfect recipe for seasonal stress.

December is one of the trickiest months for engagement. On the one hand, you have employees taking more time off than usual and looking forward to vacation and holiday parties. On the other hand, some employees will be working more hours than normal, especially in sectors like retail and healthcare where workloads double or triple during the holidays.


But don't write December off just yet. With an intentional strategy, you can boost employee morale and enjoy some holiday cheer while still keeping everyone on task. This month, consider these proven engagement practices to reduce stress and cultivate well-being in the office.
Say thanks. Recognizing your employees is one of the most meaningful and impactful ways you can help them stay motivated when facing heavy workloads and high stress levels. Did you know that 89% of employees say that engagement increases when they are recognized for their performance? As part of a formal recognition program measurable, attainable goals help employees understand the business impact of their daily decisions and give them targets to aim for. But even small gestures of thanks like verbal praise or a written thank you note can encourage team members to do their best work.
Clearly state your policies about holiday festivities at work. Holiday celebrations can be legal landmines. The best policies clearly state what is acceptable in terms of office decorations, parties and gift giving. SHRM recommends that office holiday policies promote awareness, inclusion and attentiveness to employee preferences, especially for those who celebrate holidays on days your office may not be closed or who have specific dietary needs.
Do something together as a team. Holiday parties should be merry and bright, but all too often they fail to meet expectations. That's why some companies opt for alternative activities such as a team building day or a community service project. Whatever you choose, be respectful of your employee's schedules and don't make the activity feel like an obligation.
Be flexible. Everyone wants time off in December, and that can create scheduling nightmares. Employees tend to be more productive after they have enjoyed some time off to rest and recharge, however, so it pays to be as flexible as possible. Industries like healthcare and retail have less scheduling wiggle room as they experience a significant upsurge in business this time of year, but even small things like allowing an employee to take off a few minutes early can make a big difference in morale.
Consider a floating holiday. Floating holidays help you accommodate employees who celebrate holidays that don't correspond with your company's schedule. Adding a flexible day off to your benefits package enables all employees to enjoy time off on their holiday of choice without having to use PTO.
Find ways to relieve stress. Busyness breeds stress, but stress is easier to handle when you enjoy a good relationship with your colleagues. Look for ways you can reduce tension and cultivate a positive atmosphere on the job by encouraging teamwork, communicating clearly, recognizing accomplishments and creating a friendly, welcoming atmosphere. You can also acknowledge the hard work your team puts in with tokens of appreciation like a more relaxed dress code, a tray of holiday treats or opportunities to work remotely on some days.
This holiday season, celebrate your employees with an engagement strategy that brings out their best work while also making room for plenty of holiday cheer. After all, the holidays are the perfect time of year to let your employees know how much you value them.