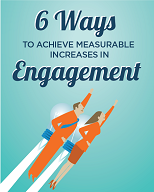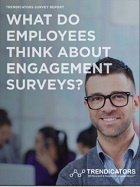 More than half of U.S. companies with 250 or more employees have conducted engagement surveys within the past two years. However, what do employees think about the engagement surveys their employers periodically—some might say, ritualistically—ask them to complete?

We looked for answers in the available literature but couldn't find a single survey on the topic. How ironic is that? For years, hundreds of millions of employees have answered billions of questions probing their feelings about workplace conditions—yet we lack basic information about how such efforts are perceived by the very people analyzed.
Our latest survey report, What Do Employees Think About Engagement Surveys, provides important new information about the prevalence of engagement surveys across different industries and company sizes, employees' and managers' preferences for the frequency of surveys, and—most importantly—the influence of managers' post-survey follow-up on key drivers for engagement.

Why do employee perceptions of engagement surveys matter?

Engagement surveys provide valuable data and analytic insights into how employees feel about their workplace experience that influence their performance, loyalty and emotional connection to organizations. Our report reveals that although 70% of employees surveyed indicated that the results of engagement surveys were communicated to them by their employers, huge differences exist in employee engagement indicators based on whether managers took action related to the survey results.

We found, for example, that employees at organizations where managers took action based on the survey results were 2.5 times more likely to recommend their organizations as "great places to work" than employees at organizations where managers didn't take follow-up actions.

Understanding engagement is key to improving competitive advantage.

How employees feel matters more today than ever before. With record low unemployment and increasingly aggressive tactics in the war for talent, disengaged employees have many more options to find employment elsewhere. Equally important, today's technologically enabled organizations are less hierarchal, more distributed and more dependent on self-directed, discretionary effort from individuals.

Simply stated, understanding and influencing the drivers of engagement at your organization is essential for advancing competitive advantage. Managers want to improve engagement, but in the face of competing business priorities, they need help from HR and support from senior leadership to develop action plans to follow up on engagement insights.

Fundamental steps to getting ahead of the analytics curve

The HR discipline is often accused of being behind the curve on analytics. Critics argue that the costly analytics capabilities promoted by HRIS platform providers do not deliver justifiable returns on investment. We believe that while increasing HR analytics capabilities is essential for ensuring the future of HR as a strategic function, HR leaders must begin to take greater advantage of the information they already have from their employee engagement surveys.

At the end of our survey report, you'll find suggestions for how to optimize outcomes from your organization's investment in engagement research.
Enjoy the read!
Call for contributors: Do you have a topic you'd like to read about or contribute to in an upcoming Trendicators Report? We'd love to hear from you! To share your ideas, please click here.