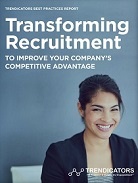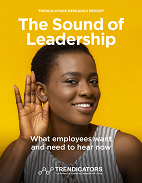 As the pandemic continues to take its toll in health, economic and emotional terms, employees everywhere need to hear that their contributions are valued. With virtual interactions now the primary form of engagement between many workers and their managers, meaningful affirmations that were once conveyed face-to-face are now delivered online. What managers say and how they say it matter now more than ever.

Our latest report, The Sound of Leadership, presents insights and expert advice on how managers can use verbal interactions to improve employee engagement and their sense of appreciation, purpose and belonging.

In this report, you'll learn about:
How managers can improve the quality of their verbal interactions to improve engagement and performance for remote and on-site workers
An employee-centric view of the difference between management and leadership





Recommendations for updating your employee value proposition (EVP) to better align with employee priorities and your organization's strategy over the next two years
How managers can create more meaningful, in-the-moment recognition experiences to create important social bonds that are vital to positive workplace relationships
How to help managers adopt a leadership behavior that takes only 14 seconds to demonstrate





What you can do to help managers become more effective leaders and how hold them accountable for continuous improvement
Helping managers enhance the quality, relevance and influence of their verbal interactions with employees is imperative for improving performance and productivity at a time when anxieties are high, and the effects of isolation continue to accrue. The Sound of Leadership offers a pragmatic approach for developing and improving leadership skills at all levels of the organization.