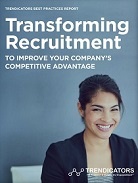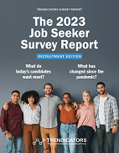 The 2023 Job Seeker Survey Report presents an analysis of the perceptions and preferences of active and passive candidates across all major industries in the U.S. produced by Trendicators™, the research division of Engage2Excel Group. This report is based on survey responses from 1,500 job seekers in March 2023. The report reveals insights on key topics to enhance your organization's talent acquisition and retention strategies and optimize success.

What's changed? The pandemic caused unprecedented disruption in the workplace. As a result, one might expect that the attitudes and preferences of active and passive candidates have changed significantly as well. In fact, what candidates want most has remained relatively constant over the past four years. Our report includes historical data from 2019, 2021 and 2022 that underscores the high priority candidates place on the demonstration of recognition, appreciation and respect during the hiring process and in deciding whether to seek employment elsewhere.
Download this report to learn more about:
Why candidates accept or reject job offers

Why people seek employment elsewhere

How onboarding experiences affect intent to stay
Where remote work stands
The prevalence of side gigs among full-time workers
What candidates think about the recruitment process
Key takeaways and recommendations from our roundtable discussion with members of the Trendicators advisory board.

Contributors: Special thanks to the following members of the Trendicators Advisory Board who provided editorial review and guidance to help shape the contents of this report.

Lisa Esparza
Chief Human Resources Officer
AutoNation

Shelley Zajic
Chief People Officer
Collective Investments