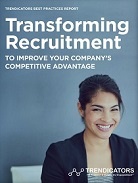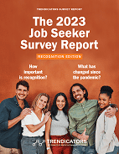 The Recognition Edition of our 2023 Job Seeker Survey Report includes important information and historical data that underscore the importance of recognition during each stage of the employee life cycle. Based on a survey of 1,500 active and passive candidates across major industries, this report provides compelling evidence you can use to educate your internal stakeholders and gain support for your recognition programs.
For example, you will learn that over the past four years, recognition, appreciation and respect have been the most important reasons cited by respondents for accepting a job offer. The lack of recognition, appreciation and respect during the hiring process has been the top reason for rejecting a job offer every year since 2019.

While the pandemic profoundly affected the workplace experience, one thing hasn't changed—people highly value the recognition they receive at work. In addition to useful information and analysis, the report includes key recommendations from round-table discussions with members of our Trendicators Advisory Board.

Download the report for answers to these important questions:
How does recognition during the hiring process influence the acceptance or rejection of job offers?




Why do people seek employment elsewhere?

How do onboarding experiences affect employees' intent to stay?

Where does remote work stand?

How do employees value the demonstration of recognition by employers?

How can you maximize your return on investment in recognition programs?





Contributors: Special thanks to the following members of the Trendicators Advisory Board, who who provided editorial review and guidance to help shape the contents of this report:

Joseph Forquer
Director, Teammate Engagement
Atrium Health

Tom Pappas
Corporate Support
Pappas Restaurants

Cortney Mondzak
Sr. Employee Engagement Consultant
Mecklenburg County, NC