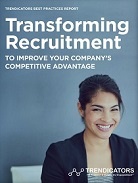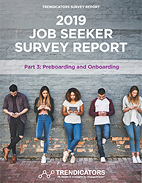 Surveys provide an important opportunity to benchmark internal policies and practices against the perceptions and expectations of a large, statistically representative group. In Part 1 of the 2019 Job Seeker Survey Report, we explored the role of recognition in the recruiting process. In Part 2, we examined candidate perceptions of the recruiting process. In our final edition, Part 3, we report on candidate perceptions of preboarding and onboarding processes.
2019 Job Seeker Survey Report: Part 3
Preboarding & Onboarding

Intent to Stay: As the results in this report demonstrate, the quality of preboarding and onboarding experiences can have a significant impact on whether or not new employees intend to stay with a company:
41% of active and passive candidates said that a poor onboarding experience would cause them to immediately start looking for another job


56% reported that their total onboarding experience would affect their decision to stay more than a year
Improving Onboarding Experiences: Our survey respondents also provide actionable insights into what employers can do to improve the quality of the overall experience of onboarding.

Formalizing Programs: And last, but definitely not least, our survey results underscore the importance of having a formalized onboarding program that gets every employee's career journey with your company off to the right start.

This survey report is the result of research and analysis conducted by Engage2Excel's chief
scientific officer, Jack Wiley, Ph.D. The report is based on a survey of 1,500 individuals, from all major industry sectors and demographic groups, including 802 active job seekers, 574 passive job seekers and 124 non-job seekers.
Enjoy the read!