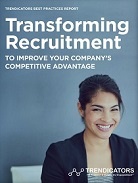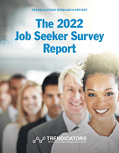 An unfortunate consequence of today's social media-influenced, click-driven news environment is that facts often take a back seat to the truth. A recent survey of 25,000 journalists at Northwestern University's Medill School of Journalism revealed that 94.3% of respondents blamed social media for spreading inaccurate news.
Get the Facts: The 2022 Job Seeker Survey Report provides fact-based insights and multi-year trend data for HR leaders who seek to align their recruiting and retention strategies with the perceptions and preferences of today's active and passive candidates.

Great Resignation or Great Renegotiation? Based on headlines over the past year, one might logically assume that the pandemic caused fundamental shifts in what employees seek from their employers. Spoiler alert: Our survey shows candidates' top three factors with the greatest influence on their decision to accept or reject a job offer have remained constant since 2019. Whether a candidate is shown recognition, appreciation and respect throughout the entire hiring process is most important, followed by fair compensation and job fit. These data show that the "Great Resignation" is not about changing perceptions but about employees becoming more aware of their options in making meaningful career decisions in a tight labor market.

Now for the Good News: If your organization has invested in employee recognition programs to create better career experiences and revamped talent acquisition strategies to enable improved candidate experiences, you are right on trend. Our survey revealed that—for the first time since 2019—the top reason given by all candidates for their willingness to seek employment elsewhere is not compensation but the failure of their employer to demonstrate recognition, respect and appreciation.

6 Key Questions: Download our report for a revealing perspective on six key questions, the answers to which should influence your organization's talent acquisition and retention strategies to optimize success:
1. Why do candidates accept or reject job offers?
2. Why do people seek employment elsewhere?
3. How will your company manage today's remote work realities?
4. What do candidates think about recruiting processes?
5. How important is recognition in the recruiting process?
6. What do candidates think about onboarding processes?