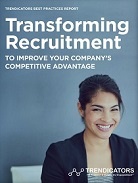 The 2021 Job Seeker Report is the third installment of a nationwide biennial survey conducted by the Trendicators research division of Engage2Excel Group. Below are some of the questions we asked a representative sample of 1,500 individuals from all major industries and demographic groups in the US:
What are the most important reasons for which you would accept or reject a job offer?
What are the most important factors that would lead you to seek employment elsewhere?





Would having to report to a manager who is younger than you influence your decision to accept a job offer?
Would your first-day onboarding experience affect your decision to stay with a company for more than a month?
Our survey, which was conducted between May 25 and June 18, 2021, provides valuable insights into how the outlooks of job seekers have been affected by the COVID-19 outbreak. More than two-thirds of the survey respondents (71%) stated that they were working from home because of the pandemic. Commenting on the recent spike in infections due to the Delta variant, CDC director Rochelle Walensky said, "This is becoming a pandemic of the unvaccinated." The fact that 26% of job seekers indicated that they would not accept a job that required them to get a COVID-19 vaccine is evidence that the pandemic is far from over in the US.

What's changed? The percentage of candidates who said that a personalized gift from an employer would influence their decision to accept a job offer increased by 28 points to 64%. The percentage of respondents who stated that interacting with other employees before or after a job offer would impact their acceptance grew by more than 20 points. All passive candidates are currently willing to learn about a new job opportunity, and 41% of all respondents said that reporting to a manager who is younger than they are would affect their acceptance decision. While the importance placed on meeting someone from management or in the same job role during the interview process has declined, recognition and onboarding experiences have become even more important than before.

What hasn't changed? One might think that during times of record unemployment, creating positive candidate experiences would become less important. However, a comparison between the results of the 2019 Job Seeker survey and those of our recent survey indicates the opposite. Candidates claim that being recognized, appreciated and respected during the recruitment process remains more important than compensation or job fit. Moreover, while fair compensation has the greatest influence on a professional's decision to seek employment elsewhere, being recognized, appreciated and respected has been the second most important aspect for two years.
Candidate experience matters now more than ever: While many employers have found ways of keeping up with demand during the pandemic through the use of automation technologies, employees will always have the greatest impact on value creation, differentiation and competitive advantage. How organizations recruit, onboard and engage employees will determine the rate of recovery and post-pandemic success in every industry. Candidates want to ensure that their efforts on behalf of an employer will be recognized and rewarded, which is evidenced by the fact that 65% regard the mention of a recognition and rewards program on an organization's career site as being very important or important. Further, candidates want immediate reassurance that they have made the right career choice, with nearly three quarters (72%) of them stating that their first-day onboarding experience will affect their decision to stay at a company for more than a month.

For more actionable insights, download your copy of The 2021 Job Seeker Report.