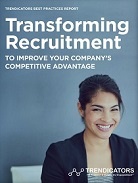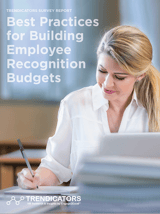 Do you know how much your organization spends on employee recognition each year?

Best practice organizations are spending 1% or more of payroll dollars on an increasingly diverse range of employee recognition programs.

As more companies realize the strategic value of recognition for reinforcing particular behaviors, practices and activities that result in better performance and positive business results, budgeting has become much more strategic.
In this best practice report, we provide practical guidance for building your employee recognition budget and your strategy for tracking, managing and ensuring accountability for the alignment of recognition programs with enterprise goals and objectives.

A first step in building an enterprise employee recognition budget is to arrive at a definition for what recognition is and why it matters to your organization. Surprisingly, only 55% of organizations have a written strategy for their recognition programs. And only 52% of senior leaders view employee recognition as an investment.

What you'll learn: Building Budgets for Employee Recognition Programs provides practical insights and examples that will help you:
Decide which types of recognition to include in your budget
Ensure maximum program participation
Choose a model for program management
Make success-based investments
Determine how much to invest
Maximize the effectiveness of your investment
Enjoy the read!