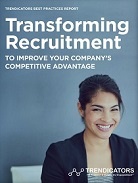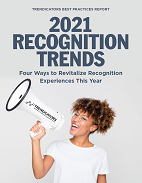 In our review of what organizations are doing to optimize recognition this year, we learned that innovators are focused on helping managers improve their ability to deliver meaningful recognition. As one recognition leader put it, "We have the technology infrastructure in place. What we need now is to help people, particularly managers, better understand how to deliver recognition experiences that are meaningful."

While widespread adoption of social recognition platforms has occurred, growing at a compound annual growth rate of 12.5% since 2018, the recognition programs and support delivered via these platforms become stale over time and need to be revitalized to remain fresh and relevant.

The pandemic has highlighted the importance of enabling social constructs that foster emotional connections at work. HR leaders who are on the front lines of their organization's pandemic response programs are acutely aware of the need to promote a sense of belonging and appreciation, which is challenging when people are working remotely.

Our latest report, 2021 Recognition Trends, combines insights from innovators with easy-to- follow best practices for managers. The report is organized into four categories that we call the four Cs of Effective Recognition:

COMMUNICATION: Communication is how recognition is delivered, either verbally, through the written word or via video. To be effective, the communication of recognition must be specific, authentic and in-the-moment.

CONNECTION: Recognition is more meaningful when team members feel a sense of connection with each other and with the goals, values and aspirations that motivate their efforts. Connectedness drives productive collaboration.

COMMUNITY: Effective recognition enables and strengthens a sense of community, where individuals watch out for one another, care about what happens as a group and make sense of events together.

CELEBRATION: When effective communication and a strong sense of connection and community exist, celebrating personal or work-related milestones and accomplishments is more exciting and meaningful.
Our hope is that you will find this multi-dimensional view of recognition experiences a useful tool for evaluating and improving recognition within your organization.