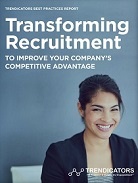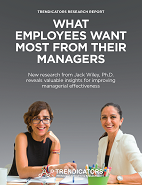 Few variables have greater influence over employee productivity and retention than the relationship between employees and their immediate supervisor. However, until now, what employees want most from their managers has not been the subject of concentrated and comprehensive scientific analysis.

What Employees Want Most From Their Managers presents an overview of the results and actionable takeaways from a decade-long investigation by Dr. Jack Wiley, Ph.D., Engage2Excel's chief scientific officer. This research involved more than 100,000 survey participants and represents 26 countries, all major job titles and three generations across all major industries.

Jack's analysis reveals eight attributes that managers, at any level within any organization, can adopt to improve managerial effectiveness, create greater career experiences for employees and deliver better results for employers.

Download the report to learn about:
The five behaviors, one skill and two values that determine perceived managerial effectiveness worldwide


The 83% correlation between the ratings of the eight attributes employees value most in a manager and the management effectiveness scores from 180-degree performance ratings


Three ways that every manager can immediately improve their effectiveness
Be among the first to review this groundbreaking research.
Later this year, the findings represented in this report will be published by Jack in a new book that will offer easy-to-follow guidance that managers can immediately put into action to improve employee engagement, retention and productivity. In the meantime, the team at Trendicators and Engage2Excel are honored to offer our readers the following preview of Jack's work on What Employees Want Most From Their Managers.
Enjoy the read!