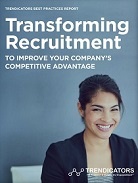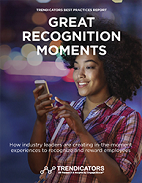 Every week, more than 150 million Americans go to work with the expectation that they will make decisions that are in the best interest of the company they work for and its customers. Employee recognition plays a vital role in influencing the attitudes and actions of employees, motivating and celebrating behaviors that bring company values, aspirations and policies to life.

In our latest best practices report, Great Recognition Moments, we showcase insights, strategies and examples from eight Engage2Excel clients that do an exceptional job at integrating recognition into operations and the daily experiences of employees. The programs represented include different types and styles of recognition for performance, safety, demonstration of core values and employee loyalty.
Download this report to learn how:
One of the nation's leading healthcare organizations is recognizing employees to prevent potentially harmful events…
A leader in the supply chain industry with 20,000 employees and 80 distribution centers creates a culture of teamwork…
In financial services, where employee turnover is a challenge for all companies, one industry leader recognizes employee contributions and honors employee loyalty throughout the career journey…
An innovative energy company is overcoming recruiting and retention challenges by enabling new hires to build an emotional connection with the organization before they start…
A leading global payments company turned its 35th anniversary into a year-long celebration of all-star team members…
The world's largest theme park operator is taking recognition to new heights…
One of America's largest workwear and textile service companies celebrates its founding core values…
A leading provider of childcare and early education with 32,000 employees worldwide takes employee recognition to heart.
Download this report to gain inspiration and ideas for improving your employee recognition program.
Enjoy the read!