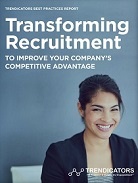 A pre-hire assessment is a test or questionnaire that candidates complete as part of the job application process. The use of a valid and expert assessment is an effective way to determine which applicants are the most qualified for a specific job based on their strengths and preferences. Employers typically use the results to determine how well each candidate's strengths and preferences match the job requirements.
Concerns About the Use of Pre-Hire Assessments: Pre-hire assessments are used by 85% of the Fortune 500. But some HR execs worry that they may slow down the hiring process or discourage qualified candidates in today's challenging hiring environment. The latest Trendicators Best Practices Report provides practical advice from our panel of nationally recognized experts and Trendicators board of advisors on how to use pre-hire assessments to improve hiring effectiveness and outcomes.
Get expert answers to the following questions and concerns:
1. With few applicants for critical positions, do pre-hire assessments still make sense?
2. How can we ensure that the assessments we use are reliable indicators of hiring
success?
3. What about the use of Artificial Intelligence (AI) in pre-hire assessments?
4. Reducing time-to-hire is critical. Don't assessments cause delays in the hiring process?
5. How do candidates feel about taking pre-hire assessments?
6. Are pre-hire assessments a deterrent to highly qualified candidates?
7. What are some common mistakes that organizations make when deploying pre-hire assessments?
8. What if we don't have the resources to administer and interpret pre-hire assessments?

The ideas and recommendations in this report began to take shape in a roundtable discussion held on February 7, 2022, with members of the Trendicators Advisory Board. Convened late last year, the Trendicators Advisory Board will help shape the topics and content of each of our reports in 2022.

Engage2Excel is grateful to the following experts and advisory board members who contributed to this report:

EXPERT CONTRIBUTORS
James Longabaugh, Ph.D., Director of Consulting Services, Workforce Science Associates
Charles Scherbaum, Ph.D., Chief Analytics Officer, Engage2Excel Group
Darren Findley, President, Engage2Excel Recruitment Solutions
TRENDICATORS ADVISORY BOARD CONTRIBUTORS
Jean Delbridge, Senior Vice President, HR, Primeritus Financial Services
Lisa Esparza, CHRO, Essilor Group
Lisa Kraska, Vice President of Talent, Baylor Scott & White Health
Derick Quintana-Hooker, Senior Director of HR, Weber Logistics