Over the past few weeks we have released infographics highlighting results of a survey conducted through our Trendicators research arm that depict why candidates accept job offers and why employees seek employment elsewhere. These insights have been among our most popular research findings to date.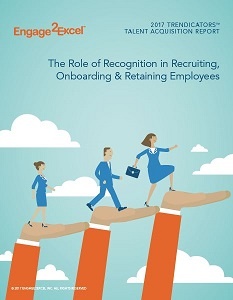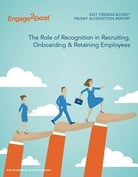 Get the report: Now, we are proud to announce the release part one of the 2017 Trendicators Report: The Role of Recognition in Recruiting, Onboarding and Retaining Employees. The results published in this report provide readers with an unbiased view of job seekers, both active and passive. In fact, out of the 1,500 job seekers surveyed, we asked 940 active job seekers, 507 passive job seekers and 53 non-job seekers what they think about various elements of the recruiting and onboarding process, as well as their motivation for either seeking a new job or being open to a better opportunity.

Actionable insights: Interested in improving your recruitment and retention strategies in today's highly competitive quest for talent? Here are three insights to consider:
What drives recruiting and retention success? Being treated with dignity and respect has a significant impact on outcomes before, during and after the job offer has been accepted. This is the number one influence cited by candidates in their acceptance of job offers. Lack of recognition and respect is the number two reason why candidates reject job offers and the leading reason why employees leave employers. Takeaway: Re-think the role that recognition plays in candidate experiences and employee engagement.
Who cares most about recognition? Our survey indicates that 81 percent of active job seekers believe that finding information on an employer's website about recognition and rewards programs is either Important or Very Important. This number jumps to 90 percent among Millennials—arguably the most sought-after demographic in today's talent marketplace. Takeaway: Make sure information about your employee recognition and rewards programs is a key component of your employer brand.
Why does onboarding matter? Today's employees have more opportunities available to them and are more accessible to recruiters via LinkedIn and other social media. An overwhelming majority (71 percent) of survey respondents indicated that their total onboarding experience would impact their decision to stay with an employer more than a year. Takeaway: Provide new talent with an onboarding experience that ENGAGES them from the day they accept employment and lays the foundation for employees to understand and emulate the desired behaviors and values that are essential to their future success.
Stay tuned: Next month, we'll release additional insights on the perceptions and motivators of today's candidates.