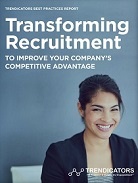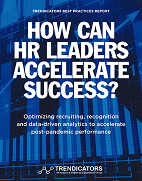 The COVID-19 crisis thrust HR leaders onto the front lines of ensuring worker and workplace safety. As economic forecasts call for a return to real GDP growth by mid-year, CEOs are focused on strategies and initiatives to accelerate success in a fundamentally different world.

Our latest report, How Can HR Leaders Accelerate Success?, provides research and insights for what HR leaders should consider in formulating plans to ensure that their organizations will be well positioned to achieve sustainable growth.

Topics Covered in This Report:

Lessons from the Great Recession: Learn what companies that bounced back the fastest did to out-perform their peers.

Top C-Suite Challenges in 2021: Review the top priorities and challenges for global and mid-market CEOs.

Filling Skills & Succession Gaps: Find out about the top 10 post-pandemic skills gaps and what you can do to address them. Plus, learn what HR leaders say are the top succession challenges and review key succession planning steps to address them.

Helping Managers Improve Performance: Review six best practices for helping managers improve employee performance to accelerate your organization's bounce back.

Enabling Data-Driven Talent Decisions: Most HR organizations are behind other internal departments when it comes to digitalization. Learn what you can do to advance data-driven decisions for talent acquisition and talent management.