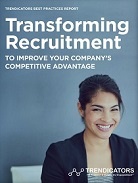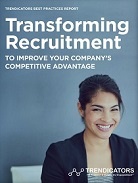 All employers, large and small, are competing to attract and retain employees for the same hard-to-fill jobs in today's highly competitive, candidate-driven marketplace.

McKinsey & Company reports that more than three- quarters of Fortune 500 CEOs do not believe their companies are effective at attracting highly talented people. Of those CEOs who do consider their companies successful at attracting top talent, only 7% believe they are effective in retaining them.
For middle-tier companies, recruitment is a make-or-break factor for achieving projected revenue growth in 2018, which the National Center for the Middle Market currently estimates at 7.4 %.

Although large employers have traditionally enjoyed a recruiting advantage, small and mid-size employers that understand the needs and aspirations of millennial's—the most sought-after demographic—can level the playing field in the war for talent.

Three fundamental market realities are requiring organizations of all sizes to reexamine and transform how they recruit and retain employees:

The Importance of Passive Candidates: Demand for talent will far outpace the supply for the foreseeable future, forcing organizations to build relationships with passive candidates in addition to those actively seeking employment.

The Consequences of Buy-Side Thinking: Today's labor market is candidate-driven. Many organizations, however, are still recruiting with a buy-side mindset. This can result in candidates sharing their recruitment experiences on social media in a way that negatively impacts employer brands and dilutes recruiting effectiveness.

The Difference Between Sales and Delivery: Although HR organizations are attempting to adopt marketing best practices to build their talent pipelines, leakage occurs in the form of high turnover rates when candidates' actual employee experiences do not meet their expectations.

Transforming Recruitment to Achieve Your Company's Competitive Advantage poses five questions for HR and recruitment leaders to use as a framework for evaluating and improving recruitment operations:

How can you build a more effective employee value proposition (EVP)?

Are you using content and candidate nurturing to build your talent pipeline?

Do you have the recruitment marketing tools you need to attract top talent?

What can you do to improve candidate experiences and outcomes?

How can you better align recruitment processes to compete more effectively for talent?
Enjoy the read!
At Engage2Excel, we believe that HR departments have an unprecedented opportunity to lead talent-driven transformation initiatives that drive bottom-line results. This eBook concludes our three-part series on creating a talent-driven competitive advantage. If you missed the first two installments, download them now:

Measuring Engagement to Increase Competitive Advantage

Recognizing Performance to Increase Competitive Advantage