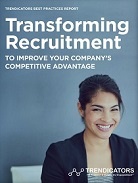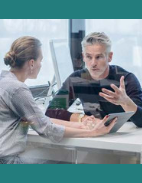 Job-hopping is the new normal in today's workplace, and it's not limited to recent graduates. People of all ages are leaving their jobs for greener pastures more frequently than they used to. The median tenure for workers over the age of 55 is just 2.53 years, and our research shows that one in four workers will leave their jobs this year. We've got a retention problem that spans generations, and it's costing companies billions of dollars every year.
You Might Have a Culture Problem If...
Employees know you value them when you invest in them. If you don't have time to listen, criticize more than you coach, and ignore employee feedback, then you'll never see your retention rates improve in meaningful ways. It's a problem for hiring too because your cultural values shape your employer brand and candidate experiences.
The problem is that a company's stated cultural values don't always match employee perceptions. It's one thing to say you value partnership and teamwork, but if your employees don't see those values impacting their work and relationships in meaningful ways, you have a culture problem. You can't hide from a bad reputation by issuing more press releases or writing more staff memos.
So, what can you do? Start by creating positive experiences on the front lines.
5 Ways Direct Managers Can Improve Workplace Culture to Support Hiring and Retention:
Culture is the foundation for your employer brand, and it's also a key consideration in candidate job selection. But you can't change the culture by adding more HR policies. It has to start with your leadership so that it shapes day-to-day decision-making and interactions.
Let's look at 5 ways direct managers influence hiring and retention by building a culture of respect.
Take a personal interest in candidates.
Interactions with direct managers during the hiring process influence a candidate's decision to accept a job with your company. Communicate respect by keeping candidates informed about where they are in the process, taking a personal interest in them, and letting them know right away if you have chosen someone else for the position. Even if the employee doesn't accept the job, manager interactions with them during the candidate process will affect their perceptions of your company culture.
Invest in employee onboarding. Nearly one in three new employees start looking for a different job a mere six months or less after being hired. Direct managers can drive that statistic down by showing appreciation for the new employee with a welcome onboarding gift, assigning an onboarding buddy to help acclimate the new employee, communicating frequently, and providing sufficient training during the first weeks and months of employment.
Coach, don't criticize. Coaching cultures shift the emphasis from top-down control to supporting and valuing employees so that they can do their best work. Be available for questions and concerns and validate employee perceptions with phrases like "What I hear you saying is…" or "I understand why you feel frustrated." Notice that you aren't necessarily agreeing with the employee; instead, you are acknowledging their feelings and helping them find a solution. If coaching doesn't come naturally, consider taking an online training course to develop the skills and behaviors that will best serve your team.
Listen to employee feedback. Schedule strategic meetings and surveys to elicit feedback and build relationships. Ask questions about the employee's progress toward goals, what improvements need to be made, and how you can help them do their jobs better. Listening to and acting on employee feedback shows your team that you value their contributions and you are invested in their success. And when your organization does a formal engagement surveys, post-survey follow up is key. Recent Trendicators research found that employees with managers who take action on survey results are TWICE AS LIKELY to recommend their organization as a great place to work.
Celebrate small wins (and big ones). Recognizing employee accomplishments is key to building an engaged workforce. But don't wait for team members to reach quarterly or annual goals before celebrating. Take time to acknowledge small wins such as landing a new client, nailing a presentation, or staying late to set up for a meeting the next morning. Celebrations don't have to be big. Leave a handwritten thank you note or send an eCard to an employee who has gone the extra mile or take your team to lunch to celebrate a new deal.
Strategies like these contribute to a culture where employees feel valued, appreciated, and engaged. As part of your employer brand, that's one of the most important ways you can hire more of the best people and keep them around for the long term.