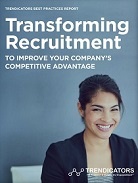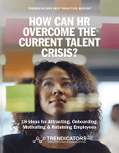 Despite concerns about slowing economic activity, hiring remains strong as we enter the third quarter of 2022. Organizations that have yet to adopt holistic strategies for creating compelling career experiences for employees will face ongoing challenges in finding and keeping talent. Our latest e-book, How Can HR Overcome the Current Talent Crisis?, presents 18 ideas to improve your organization's ability to attract, onboard, motivate and retain employees.

TODAY'S CHALLENGES

Job Seekers Have More Options: The July jobs report showed the largest average monthly gain over the prior four months, with more than a half million jobs added. The current unemployment rate of 3.5% is equal to where it was prior to the pandemic in February 2020. However, there are 3.7 million more job openings than in February 2022, which means that job seekers in today's market have more job options than they did before the pandemic.

Employees Are More Open to Change: A tight job market, increased job flexibility and greater awareness among candidates about their options for making meaningful career decisions have resulted in what some have characterized as "the Great Talent Migration." Two-thirds of employees anticipate working for a new employer within six months, and 89% are interested in learning about a new job opportunity.

WHY READ THIS REPORT?

Significant changes in how people view work have affected what employers need to do to attract top talent effectively.

In today's job market, preboarding and onboarding are more critical than ever in setting up employees for success.

Now more than ever, recognizing and appreciating employees' contributions are critical in improving performance and maximizing retention.





Contributors: The ideas and recommendations in our latest report are based on a roundtable discussion held on July 21, 2022. Contributors included Darren Findley, President of Engage2Excel Recruitment Solutions; Jeff Gelinas, President of Engage2Excel; Roy Saunderson, Engage2Excel's Chief Learning Officer and the following members of the Trendicators Advisory Board.

Jean Delbridge
Senior Vice President, HR
Primeritus Financial Services

Lisa Esparza
Former CHRO,
North America Essilor Group

Joseph Forquer
Director, Teammate Experience
Atrium Health

Lisa Kraska
Vice President, Talent Acquisition
P3 Health Partners