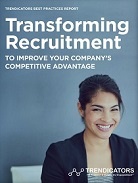 In our last conversation session, I had a chance to speak with Darren Findley, president of recruitment solutions, to discuss the latest updates of the labor market. During the session, we discovered what recruiters are seeing in candidates' expectations and how employers can improve the hiring process.
The past two years have proven that the labor market is shifting in a fixed direction. There is an upsurge in demand from employers, while the quantity of available talent is decreasing. According to Darren's observations, considering the large demand for talent, there is an accelerated absorption of the people coming into the labor market. This creates an opportunity for candidates to compare their options, making it competitive for many organizations.

Employers and employees misaligned expectations
Entering the work-from-home era established a new normal when it comes to working environments. During the lockdown period of the pandemic, people moved away from their offices in masses, making the going back to the office period troublesome for various employers. Because of this massive relocation, candidates' opinions on commuting changed. According to the trends observed in the past years, most employees and candidates favor positions adopting a hybrid or remote model. Our research shows that 74% of leaders wanted their employees to come back to offices 100% of the time, and only 24% of employees wanted to go back to offices.

Keeping job seekers interested with a quick application process

Creating a short and straightforward application increases the chances of attracting interested candidates. Today's standards have changed. In fact, Darren mentions that filling out an application should take less than 30 minutes. Methods of communication between job seekers and employers are fast-paced – recruiters are communicating through short emails and text messages. Darren also highlights that "If you don't have a mobile-optimized application process, then you are losing out on a significant number of candidates."

Making an appealing job description

A detailed job description means a lot to candidates. Knowing the job's tasks, salary and work location will highly influence job seekers' decision to apply. Candidates applying for a job that reveals information about the position at the end of the application can experience some frustration if the offer doesn't match what they are looking for. Therefore, being transparent at the very beginning is an important factor. In addition, employers should promote why the offered position is valued in the organization. Let candidates know what their benefits are and how they will be recognized in their position. This will let them know the advantages they will get by partnering with your organization.

Keeping employees after onboarding

There are four reasons why employees leave after being hired: respect, recognition, compensation and fit of the job. Keeping an employee's interest in the position should happen at the very beginning. Therefore, having a substantial onboarding program is essential. Staying in contact with new hires will help them understand the next steps to come and demonstrate the value attributed to their role. Employees hired in different circumstances tend to lose interest or become fearful, which results in them looking for other opportunities.

Understanding what employees want can help during the recruiting process. Employers creating candidate-focused and easy-to-apply offers are usually more successful at finding talent. To know more about hiring in today's labor market, watch our conversation: What Do Today's Job Seekers Want? And download our latest report – 2022 Job Seeker Report.