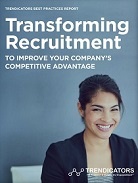 Recognition Professionals International's (RPI) first Best Practice Standard for recognition programs is having a Recognition Strategy. Does your organization have a written recognition strategy? If you do, what is your recognition strategy's intention?
I want to address what the strategic intent is behind your recognition strategy. And if you don't have a recognition strategy yet, I will clue you in how important it is to know your strategic intentions.
What is Strategic Intent?
Strategic intent for your recognition strategy is the aspirational and desired state of the vision for employee recognition practices and programs in your organization for the future. It provides the long-term direction and plans to be achieved within a specific time. A strategic intent behind your recognition strategy is the starting point for achieving your recognition goals.

So, what is the future state of employee recognition? That's what you should keep in mind when you create a recognition strategy for your organization. How will recognition lead you to achieve your organizational strategic initiatives? What role can recognition play in helping make the business a leader in the industry?

You can also consider how recognition will drive your organizational vision, mission and values, and what position it has with improving measures like employee engagement and other KPIs. Think about your expectations for organizational and people changes because of your strategic intent.

Reality Check for Recognition Strategies
From the Recognition Trends Survey conducted by WorldatWork in 2019, we learned that only 49 percent of organizations surveyed have a written recognition strategy. The great thing about that small number is that nearly one hundred percent of those organizations, (94 percent), have recognition strategies that align with their business strategies. While so few have recognition strategies, the positive side is that you get the picture that there was strategic intent behind them. Otherwise, they would not align driving the organization's strategy.

That same survey showed that most respondents felt their programs were doing a relatively good job meeting their goals, and that employee engagement is the most common measure of success, followed by program usage.

Creating Strategic Intent
What is your strategic focus for recognition? This is where you need to begin with developing your intent. You want to create a vision statement of where your organization sees employee recognition in the future. This statement needs to inspire both leaders and employees on how recognition will drive and motivate people and performance. It gives an image and aspirational declaration of what the ideal state of recognition will become.

And it is important to state your purpose for recognition and how it will impact the core business goals. Including how will recognition be different in your organization than from any other organization. Then it is a matter of laying out very detailed objectives beyond the broad goals stated in the vision. From here, you move on to the strategic plans to reach those objectives implemented.

The strategic intent of your recognition strategy will help everyone commit to making recognition a way of life. It will help differentiate recognition in your organization from those of your competitors.