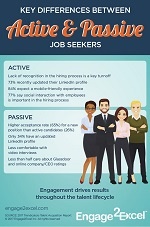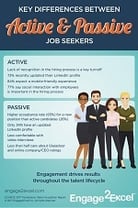 With the employment market continuing to tighten, many companies are re-examining the differences between active and passive job seekers.

An active job seeker is motivated to find a new job and actively searches for job opportunities. Passive job seekers are individuals who are currently employed and willing to learn about new career opportunities.

Our December 2016 survey of 940 active and 507 passive job seekers revealed some key differences in the perceptions, preferences and behaviors of active versus passive job seekers. These findings are revealed in our most recent infographic, The Key Differences Between Active and Passive Job Seekers.
Active job seekers consider a lack of recognition and praise during the hiring process to be a key turnoff. Today's active job seekers, dominated by millennials who comprise the largest generation in the U.S.—are motivated to make a change and are looking for an opportunity that affords them more interesting and challenging work and a better career opportunity. An overwhelming majority of millennials (81%) rate receiving recognition and praise during the pre-hire phase as being Very Important or Important, compared to Gen X (55%), boomers (39%), and Gen Z job seekers (31%). Key Takeaway: Reevaluate your pre-hire candidate experience to maximize engagement from much-sought-after millennials.
Active job seekers are ready to be engaged. Nearly three-quarters (73%) of active job seekers have recently updated their LinkedIn profile. They expect a mobile-friendly experience (84%) and believe that social interaction with employees is important (77%) in the hiring process. Key takeaway: Make sure that your employment brand is updated and that it reflects your company's unique culture and employment value proposition, and create opportunities for candidates to engage with employees early in the hiring process.
Passive job seekers report higher acceptance rates for a new position and are far less influenced by online ratings. Only 26% of active job seekers report accepting a job offer in their most recent recruitment experience compared to 65% of passive job seekers. Our survey also indicates that passive job seekers are far less concerned than active job seekers about ratings (such as those from online sources) about the company and its CEO in formulating their decision to accept a job. Key takeaway: Don't rule out passive candidates for hard-to-fill roles.
Passive job seekers are less comfortable than active job seekers with non-traditional interviews, but less frustrated by the recruitment process. Only 31% of passive job seekers (versus 71 % of active job seekers) expect a video interview. However, passive job seekers find the hiring process to be considerably less frustrating than active job seekers, with only 7% to 11% reporting high levels of frustration with background checks, interviews and assessments compared to 30% to 38% of active job seekers who found these basic recruitment steps to be either Extremely Frustrating or Very Frustrating. In addition, our survey found that passive job seekers were far less likely (14%) to report that a job with a younger manager, despite his/her years of experience would influence their decision to take a job offer compared with a majority (56%) of active job seekers who indicated that this would influence their offer acceptance decision. Key takeaway: Reevaluate your recruitment process, especially the interview process, to consider the needs of both active and passive job seekers.
Stay tuned. We'll release additional insights in the second part of our 2017 Trendicators Report in early March, highlighting what you need to know about key demographic differences between today's job seekers.