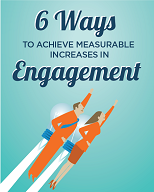 In late 2016, Engage2Excel acquired Decision Toolbox, a recognized leader in integrated recruiting solutions. This addition complemented our existing HR solutions for employee recognition and surveys and significantly expanded the capabilities of our Talent Acquisition division, launched in July 2016.
Today, I am pleased to announce that Decision Toolbox is now Engage2Excel Recruitment Solutions. This change allows us to expand our capabilities, giving all our clients the option of taking their recruiting and talent acquisition programs to the next level by leveraging our science-driven approach to building engagement throughout the candidate and employee lifecycle.
For our Decision Toolbox customers, Engage2Excel Recruitment Solutions will continue to provide all of the services you have come to rely on with the same team providing the same attention to detail and delivery excellence. For our existing Engage2Excel customers, it means we can help you attract and retain top talent with solutions from a single provider.
We utilize knowledge from over 30 years of original research on what employees really want to drive our recruiting, onboarding, employee engagement, survey and recognition programs, helping companies engage employees from pre-hire to retirement.
Please take a look through our new website at www.engage2excel.com for an overview of our combined Engage2Excel offerings and stay tuned for new insights and posts from the Engage2Excel team.