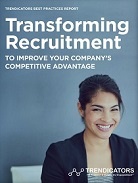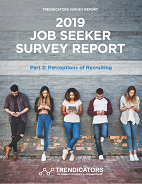 Candidate Experience has emerged as the buzz-worthy term of choice among thought leaders in recruiting. In today's highly competitive market for talent, creating better candidate experiences can reduce your drop-out rate. More engaging, two-way candidate experiences can help you better assess job-fit to reduce voluntary turnover rates. And, candidate experience is also an important aspect of your employer brand, which is particularly important if your candidates are also customers or prospective customers.
In our second edition of the 2019 Job Seeker Survey Report, we explore candidate perceptions of the recruiting process, including:
What active and passive job candidates think about application and interview processes


Candidate preferences for engaging with potential employers and key contacts


Top candidate expectations with regard to the overall recruitment experience
This survey report is the result of research and analysis conducted by Engage2Excel's chief
scientific officer, Jack Wiley, Ph.D. The report is based on a survey of 1,500 individuals, from all major industry sectors and demographic groups, including 802 active job seekers, 574 passive job seekers and 124 non-job seekers.

Stay tuned: In Part 3 of the 2019 Job Seeker Survey Report, we examine candidate perceptions explore the importance of pre-boarding and onboarding.
Enjoy the read!